Laneway Festival 2018 Review + Photos
Tuesday 30th January, 2018 3:11PM
The fabulous St Jerome's Laneway Festival returned to Albert Park in sweltering summer heat on an almost excessively sunny Auckland Anniversary Day. Luckily for attendees, the leafy festival site provided shady space for us all to enjoy a smoking-hot selection of international artists and local high-flyers. While there were definitely a few technical hiccups to navigate, notably a glacially-paced bottleneck of an entrance area (which could have used some shelter for queueing festival-goers and staff), once we were inside the festival vibe was on-point.
It was a ripper of a day with great bands from the get-go and the first visit to Aotearoa for many performers, including headlining UK shoegaze legends Slowdive. Artists returning to our shores included youthful US art-pop star Billie Eilish, popular indie-rock hero Mac DeMarco, and acclaimed rockers The War On Drugs, who received a Grammy for 'Best Rock Album' on that very same day. Our Prime Minister (and Minister for Arts, Culture and Heritage) Jacinda Ardern even got amongst the action, opening the sold-out festival and posing for pics with punters.
We sent a battalion of reviewers along to cover the madness, read on below for our extensive coverage of Laneway Festival 2018, accompanied by excellent snaps by Ngamihi Pawa and a selection of images kindly provided by Laneway photographers Connor Crawford and David Watson. To check out the full live photo gallery you can head along HERE.


Wax Chattels
Thunderdome Stage, 12pm
It was bright and early in the festival sense but Wax Chattels' appearance opening the Thunderdome stage would have been difficult to describe as somnambulistic. Energetic and engaged, they appeared laser focused. Aside from excellent songwriting and sonic textures, the band's polished, road-tested and surprisingly wry performance was simultaneously charming and intimidating; a fact not lost on the gratifyingly numerous early attendees.
The lyric "I upload my photos to Facebook so that I will never die" might have been enough to make Wax Chattels set memorable. But their timbral palette of stabbing chunks of sound and seething crescendos transcended their sunny pastoral surrounds, proving their music effective outside the usual claustrophobic club gig. Stand out songs like 'Status Appointed' and 'Gillian' proved the efficacy of their approach. Wax Chattels promise an album to be released in the next few weeks. Judging by this show, it will be well worth exploring. NICH CUNNINGHAM
Polyester
Fountain Stage, 12.10pm
Opening with tinkling wind chimes, Polyester were the perfect kick-off to a festival. Starting with an audience of mostly friends and family, it wasn't long before their warmth & playfulness drew more people in. The obvious fun the band members were having was infectious and the sweet summery melodies both pretty and funky, with some damn solid bass lines from Michael, drum grooves from Keria, bright melodic guitar from Tane, great keys and synth licks from Amelia, and excellent vocals and gags from Sylvia (the sweet backing vocals from Keria and Tane aren't to be sniffed at either). Their upcoming single had me singing along "oooohh" in seconds, making me anxious to get my hot little hands on their debut album to be released this year. Sylvia parts with "thanks for bringing the mild party" and closed a delightful set with beautiful trans anthem and bFM hit 'Different for a Boy'. TINA TURNTABLES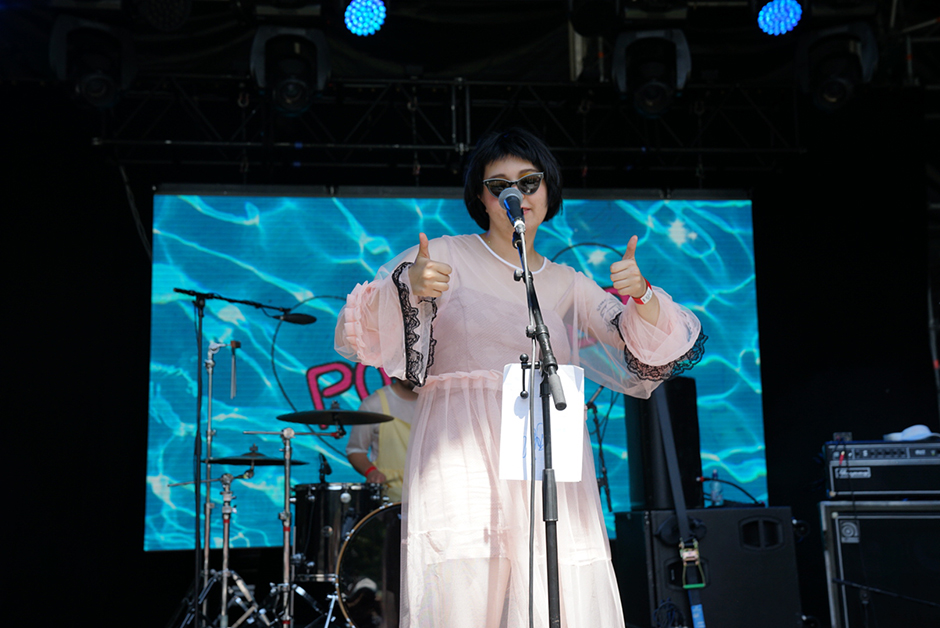 Photo Credit: David Watson


Julie Byrne
Thunderdome, 12.35pm
Halfway through her brisk Laneway performance on the Thunderdome stage, Buffalo, New York-born new age folk singer Julie Byrne stepped away from the microphone for a blissed-out instrumental cut that spoke directly to the calm at the heart of her astute, emotionally hefty songcraft. Since 2012, Julie has built herself a global audience through a perfectly curated discography of tasty EPs and two even tastier albums, and a spare, minimalist live show where ascendant voice, guitar, and traces of synth swirl together into a shimmering articulation of what it means to be human. She doesn't really use social media, which suggests the busy crowd that had gathered there for her came on the strength of the music alone. Hearing 'Sleepwalker' and 'Follow My Voice' kick off the performance was a delight as well, as was the tasteful accompaniment from Julie's side musician. MARTYN PEPPERELL
Melodownz
Rotunda Stage, 12.50pm
Melodownz took to the Rotunda stage in the height of the day's persistent heat, bringing fire with his quick lyricism and catchy, chanted hooks, while early afternoon punters melted in the sun. A persistent West-Auckland contingent turned out early for the Avondale-repping MC, who rode a triumphant crest of hype and heartiness. Recent anthem 'Son Of A Queen' was a clear highlight with extra-enthusiastic singalongs abounding. Mr 'downz was supported by a slew of familiar faces from the hip hop world, the most notable of which being one Frank Eliesa of electro heavyweights Yoko Zuna. FLUFFY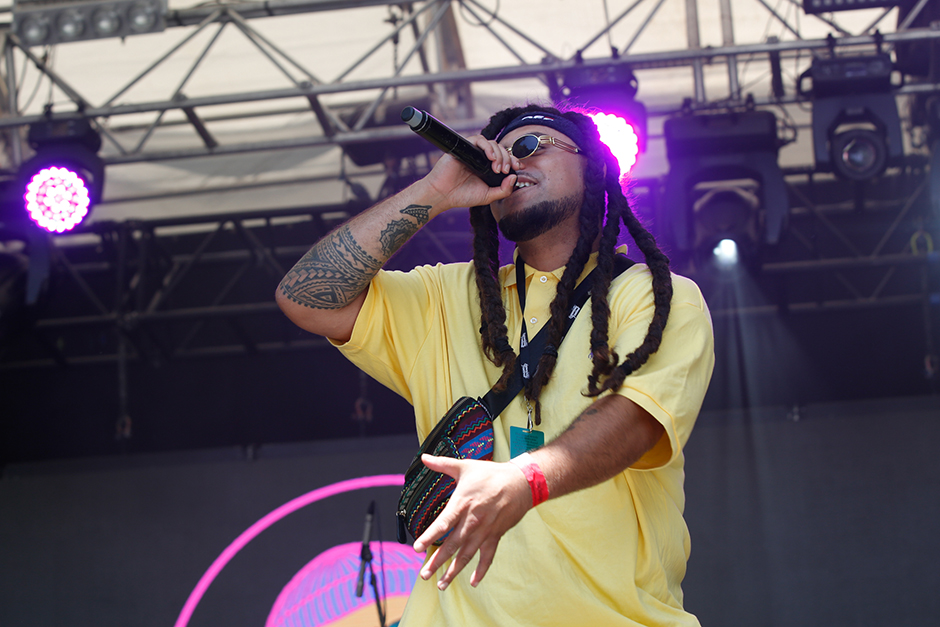 Photo Credit: Connor Crawford


D.D. Dumbo
Thunderdome Stage, 1.10pm
The day was young, fresh and full of promise when D.D. Dumbo, the solo project of Oliver Hugh Perry, took to the stage. The young Australian-based musician has opened for the likes of Warpaint, Tune-Yards and St Vincent and brought a flood of energy to the stage. The musician's backing band boasted a selection of funky instruments, including some kind of saxophone. Perry didn't stray away from diving into the group's famous loops and beefed up their already layered sound with the addition of some extra sounds. The group switched up the tone of what they were playing, ranging from some of their slower paced hits and transitioning into more hard core sounds throughout the set. JEAN BELL
Rolling Blackouts Coastal Fever
Fountain Stage, 1.35pm
Though early in the day, a decent crowd builds under the shade surrounding the Fountain Stage for Melbourne's hottest guitar band right now, Rolling Blackouts Coastal Fever. Though they've only released a couple of EPs to date, these have been met with growing plaudits, culminating in the outstanding French Press EP, which has earned the band a spot on the festival circuit.
It doesn't take long for the band's unique brand of glittering pop to draw the crowd out of the shade and into the intense sun with an infectious groove coupled to an array of shimmering guitars. The band of brothers (and cousins) waste no time in ripping through choice cuts from first EP Talk Tight, and French Press. Brand new single, 'Mainland' is rewarded heartedly by a sway-a-long from the sun-struck crowd who manage a bit of dance, despite the crushing heat. The band wind up the set with a flurry of favourites including 'Fountain of Good Fortune' ("we're the Fountain stage, right?") and the titular 'French Press'. It's an impressive outing and these guys should definitely be back, on a deservedly bigger stage. Watch this space! PAUL LARSEN
Billie Eilish
Rotunda Stage, 2.25pm
When you've inked a record deal, collaborated with Vince Staples, and racked up 100 million streams before your sixteenth birthday, you'd think making a mid-afternoon start time would be a doddle. For some reason though, the mid-afternoon crowd are left to melt for twenty excruciating minutes before the diminutive Eilish finally takes the stage.
It doesn't take her long to make amends however. Flanked by the obligatory couple of blokes operating drums and synths (reminiscent of Laneway alumni Lorde and Chvrches), Eilish bounces around the Rotunda stage, unleashing a blissed out pop-bombardment from debut release Don't' Smile at Me that is absolutely lapped up by the big crow. 'Bellyache' is a highlight while the drum and bass driven '&burn' kicks the crowd up to another notch altogether. By the time an inspired ukulele cover of Drake's 'Hotline Bling' builds into the massively enjoyable 'Party Favour', all tardiness is forgiven by the buzzing crowd. PAUL LARSEN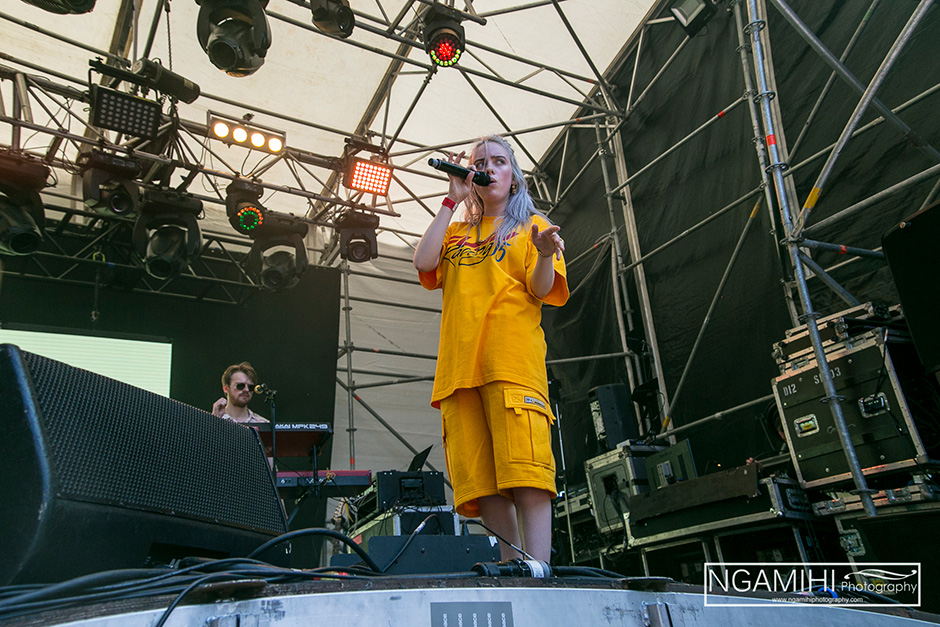 Photo Credit: Ngamihi Pawa

Die!Die!Die!
Thunderdome, 2.25pm
Die!Die!Die! played to an appreciative gathering of punters, with the shade of the Thunderdome providing a welcome reprieve from the relentless one-two combo of humidity and stark sunrays. Amping up the tempo in the afternoon mix, the group bought the energy and stage presence they've become renowned for. My mind couldn't help but draw parallels to Canadian punk band White Lung's set of yesteryear, with the two groups sharing similar timeslots on the Thunderdome stage, as well as similar spaces on the sonic continuum in the midst of the festival madness. FLUFFY

Pond
Princes Street Stage, 3pm
While the penned description as "psychedelic rockers" seemed a bit wide of the mark, Pond instead offered a thorough exploration of 80's synth and dark pop, with some power ballad bombast thrown in for good measure. Clearly such pedantry mattered little to the baying audience, who welcomed the band with enthusiastic cheers. Crowd numbers swelled as the set progressed, as did the animation of their appreciation, which was not unnoticed from the stage; Pond expressed their gratitude, thanking them for "making us feel important." They went on to note how pleased they were to be here, going so far as to describe New Zealand as "Australia's more woke neighbour." Flattery will get you everywhere.
Front man Nick Allbrook's flamboyant Bowie-esque dance stylings provided the visual epicentre to the performance, backed with swirling colour-shifted video. Pond's pulsing rhythm, musical drama and bright energy prove them to be perfect summer festival fodder. NICH CUNNINGHAM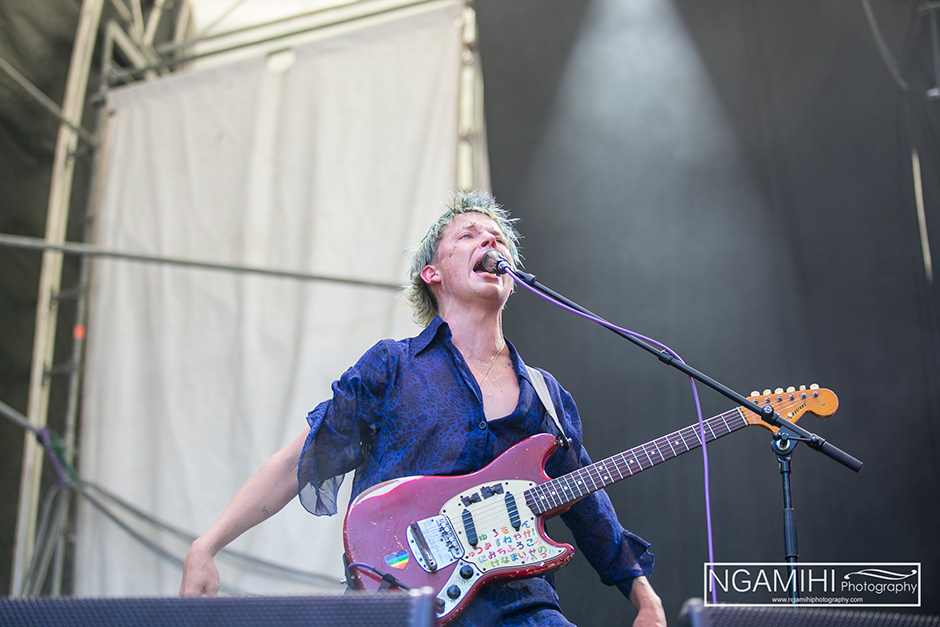 Photo Credit: Ngamihi Pawa

Sylvan Esso
Fountain Stage, 3.15pm
When listening to Sylvan Esso, it's hard to resist playing the game of "Amelia Meath sounds like…" She has the timbre of Feist, sings with the delicacy of Cat Power, sometimes belts it out in the range-y direction of Florence Welch, and occasionally lets out a Karen O squeal. Live, Meath is exuberant and captivating. The familiarity of her voice lends itself to Nick Sanborn's intricately layered and often blistering synth-tracks (Sanborn happens to look a little bit like Lawrence Arabia), and the two skirt around numerous indie glitch-pop genres in a balanced and powerful way. During the set, songs from 2017's What Now unfurled with a dramatic urgency – pushing through the 'cool synthpop' which contains them on record. In the mid-afternoon heat, Meath danced energetically across the stage to yawning, bass-y reverb, commanding the stage with genuine enthusiasm. Many acts maintained a cool nonchalance during the day. It was a treat to see a band play like they really meant it. SOONG PHOON

(Sandy) Alex G
Thunderdome Stage, 3.40pm
I ate a sandwich and watched thirty excited (Sandy) Alex G fans smoke cigarettes waiting patiently for his arrival. A couple of people, who were four chardonnays away from vomiting, were dancing to Wu-Tang nearby. After a short line check Alex greets the crowd looking relaxed and comfortable. People love Alex G and it's really simple to see why. His pop melodies are reminiscent to all of your favourite 90s bands and musicians, but that's not to say he's someone who copies rather than works from influence. The track 'Proud' was a crowd favourite, having the entire audience sing along to every lyric. During the song 'Brick', Alex switches from guitar to the keyboard and screams throughout, while strobe lights almost make me seizure. During the end of their set someone picked up a brown praying mantis off the ground and held it up in the air. The praying mantis watched Alex G with us. Everyone was happy and it was a really nice time. ROY IRWIN

Moses Sumney
Rotunda Stage, 4pm
I zoomed over from an engrossing (Sandy) Alex G set at the Thunderdome to catch artful UK RnB singer Moses Sumney and his band help chill out a clearly roasting crowd at the Rotunda Stage. The jams were slow and the vibes were real, he belted out heartfelt tunes from his hit 2017 album Aromanticism and delivered all sorts of incredible vocal pyrotechnics along the way. Sumney's stage presence was phenomenal, the very stylish singer was decked out all in black, wearing what looked like a sleeveless trench coat which billowed in the summer breeze, extremely high waisted baggy pants, and John Lennon-style circular sunglasses. At one point the clearly amused artist gently teased his crowd, imploring them to sustain a single vocal note and clap the beat as the intro to an unreleased number featuring alto-sax freakouts and near-operatic vocals - a definite festival highlight. CHRIS CUDBY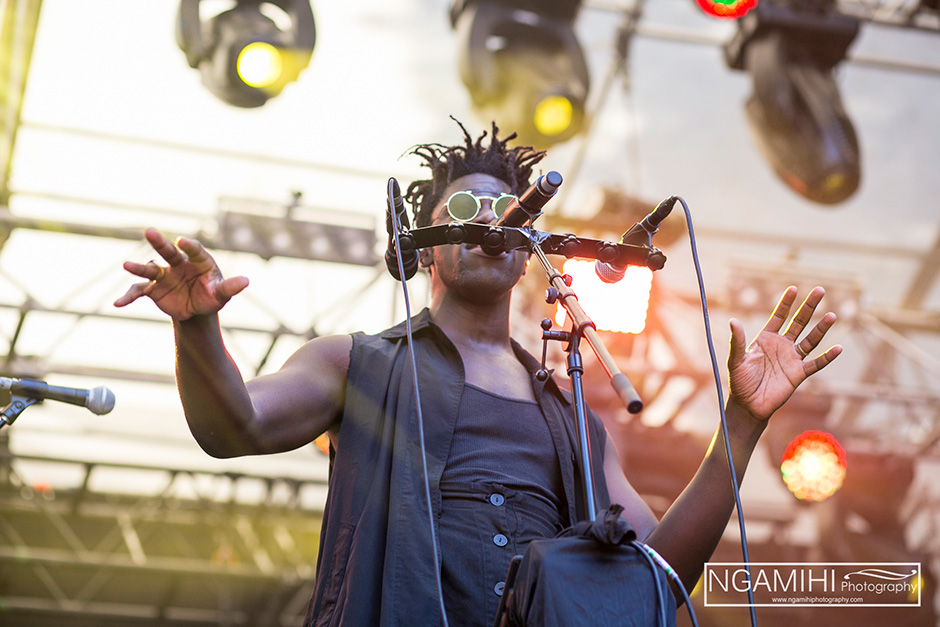 Photo Credit: Ngamihi Pawa

Wolf Alice
Princes Street Stage, 4.15pm
Lead singer Ellie Sowsell looked deceptively innocent wearing a loose floral vintage dress on the Princes Street stage in the early afternoon. Her ferocious yet delicate vocals contributed to the high energy ruckus that the four-piece band from North England brought to the stage. You can imagine an old Paramore fan appreciating the set, ranging from hard punk to some softer sounds complete with gentle spoken word parts. The heat was blazing when guitarist Joff Oddie resigned from wearing a shirt. Much to the delight of the crowd he whirled his guitar around and up a few feet into the air, encouraging the audience to clap along. Oddie told the crowd "That's the best singalong I've seen from a lot of bros" and the band departed from the stage to an equally energised and content crowd. JEAN BELL

Connan Mockasin
Fountain Stage, 4.50pm
Connan Mockasin has come a long way since making everyone sit on the floor at grotty old Edens Bar for an encore. His sound may have evolved into more ethereal psychedelia but his ability to seduce the crowd hasn't. Even in a look, which he described as very Hamburgler, given the striped jumpsuit and big black hat. I was stuck in a spot where I couldn't see back of stage, a dumb move, given his collaborations, a cheer went up during 'It's Choade My Dear' for whoever joined. His dad Ade sung a hugely fun version of 'On Top Of The World', and for the stunning 'My Guitar Gently Weeps' the crowd went nuts again. I peeked Mac De Marco, Liam Finn (and I heard Lawrence Arabia & Moses Sumney) on backing vocals on that tune and 'I'm The Man, Who Will Find You'. With an exceptional band behind him, Connan had the huge crowd eating out of his ever charming Hamburgler hands. TINA TURNTABLES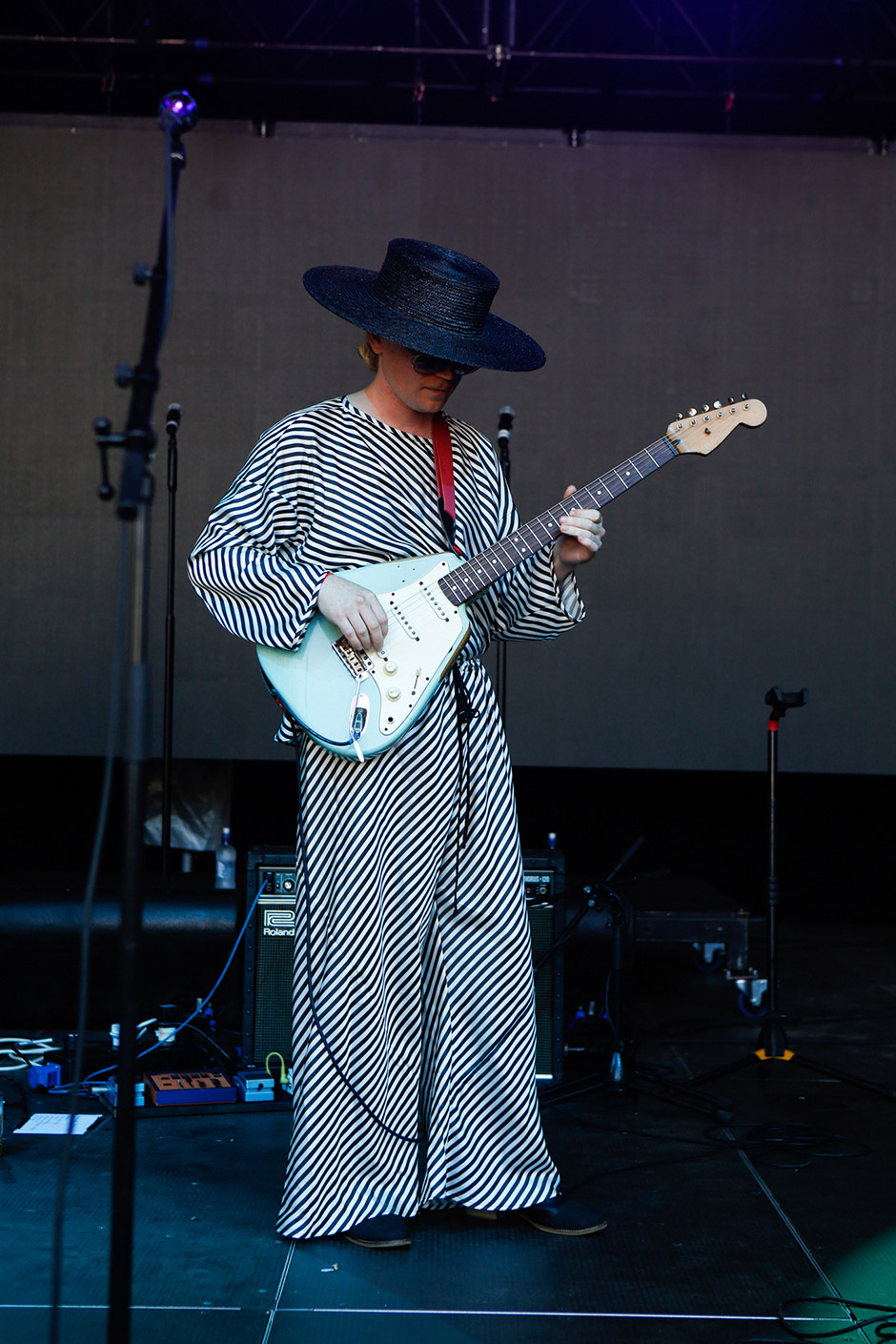 Photo Credit: Connor Crawford

Loyle Carner
Thunderdome Stage, 4.55pm
Loyle Carner hadn't slept since midnight when he arrived from Singapore but somehow he had enough energy to power a whole street. The Thunderdome street was filled up nearly to the end with lit up faces as Loyle Carner's exuberance was contagious. The suave singer swaggered around on stage with a youthful charm. With a knack for storytelling, Loyle Carner connected with the audience as they listened and laughed to each of the stories he told before almost every song. Although far away from his hometown of London, Loyle Carner didn't show he was homesick at all. He constantly expressed his love for New Zealand and the crowd showed their love back in return. Loyle Carner reminded me of what a good performer can be; someone you would want to be friends with. JESS FU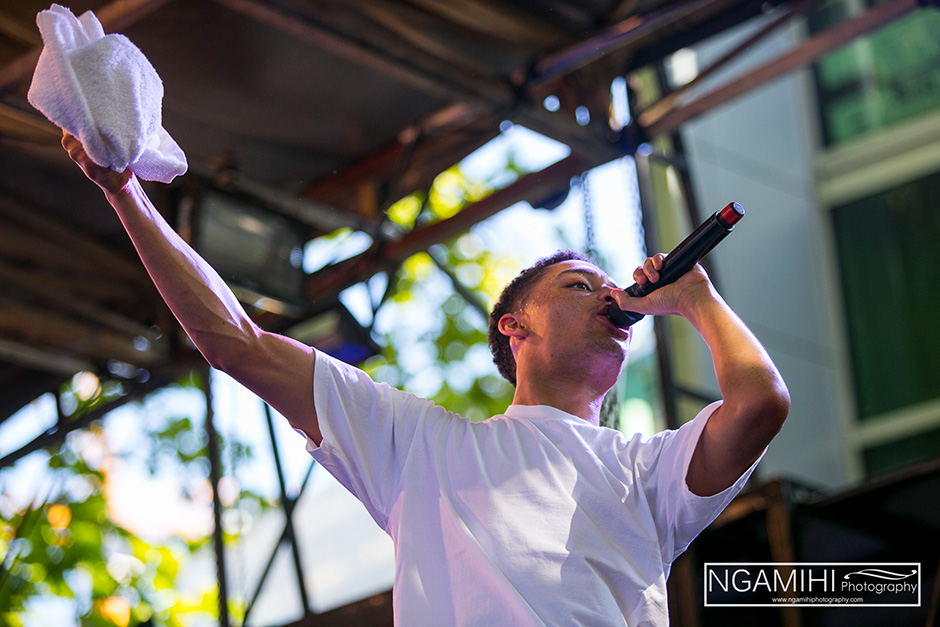 Photo Credit: Ngamihi Pawa

Aldous Harding
Princes Street Stage, 5.30pm
Iconically dressed all in white, Aldous Harding glares down at the audience before opening with 'Elation'. Watching Aldous perform is frightening and fascinating. It's frightening in the way she moves, rolling her eyes into the back of her head and then locking eye contact with fans in a way that is similar to how I'd imagine a crime boss to look before they slash your throat open. I get a strong sense that this is what it might have been like to have watched John Cale play live circa 1975. She played tracks mostly from Party and the crowd was content and focused. "You're fucking awesome, Aldous" a fan screams. "You too buddy" Aldous replied while tuning her guitar. It's hard to describe how incredible Aldous Harding and band are live. But it's towering, beautiful and scary, and in my opinion she is one of the most talented and important artists from New Zealand. ROY IRWIN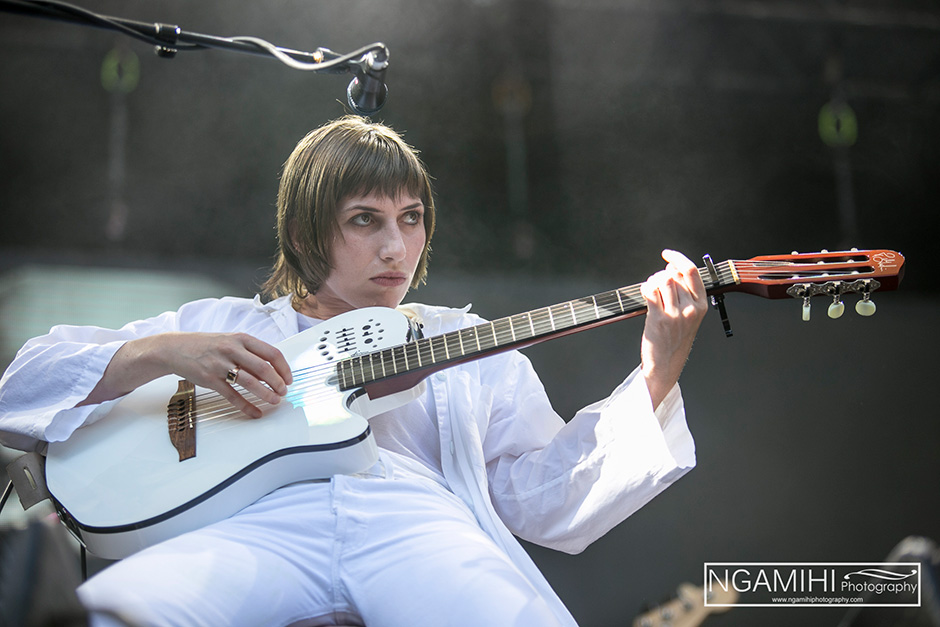 Photo Credit: Ngamihi Pawa

The Internet
Rotunda Stage, 5.45pm
The Internet starts with Syd saying "am I on?," screaming "are you ready for a show?," more screams and then we're off with 'Under Control'. I'm reminded how damn tight the whole band is, Patrick Paige II on bass and Christopher Smith on drums lay down such a great groove it's hard not to dance, and the slow grind of 'Special Affair' was well suited to the heat, Syd even said "I know it's hot but can we dance?" then busted into 'Dontcha'. They then, thankfully, slowed down again for 'Girl'. Guitarist Steve Lacy not only played a solo track, like Syd, but provided some pretty sick moves too. Syd had the crowd in her thrall the whole time, clapping and singing along, all while flipping from super sweet soul trills to "get your hands up!" seamlessly. Producer Matt Martians' keys "stage dived" but nothing deterred them from putting on an awesome show, finishing with everyone happily singing along to 'Get Away'. TINA TURNTABLES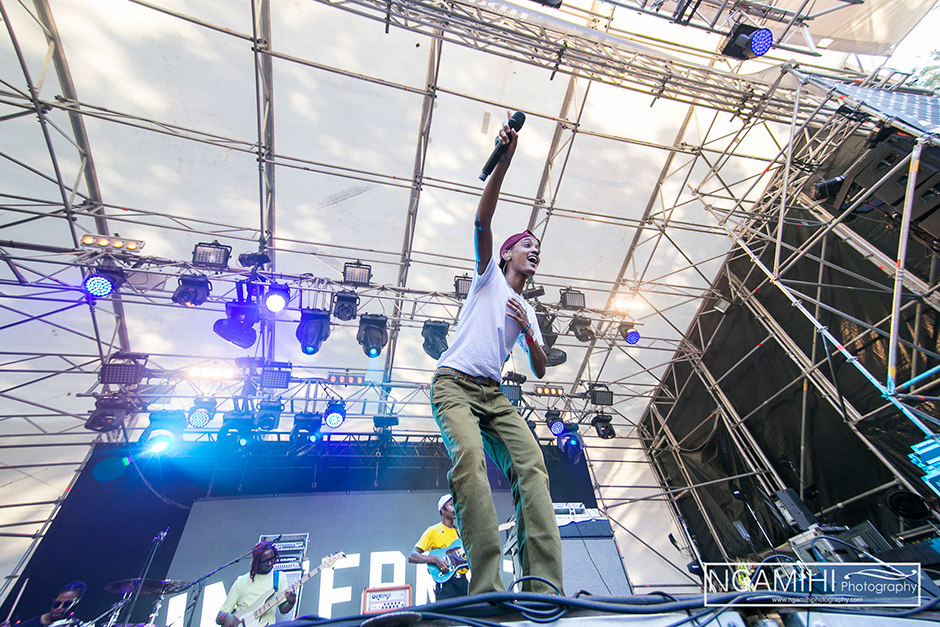 Photo Credit: Ngamihi Pawa

Noah Slee
Thunderdome Stage, 6.10pm
When I arrived at the Thunderdome to catch Noah Slee's performance, I was a bit nervous for him. It was the first time in several years that the Berlin-based, but West Auckland-born singer, songwriter and electronic music producer had performed at home and given the impact his recent album Otherland has had, I was hoping this was going to be a special homecoming. As the crowd filled out, it was, but maybe not in the ways I expected. I knew he'd sing live, with soul, depth, and grace, and I suspected he'd play some guitar. What I didn't expect, was how he wove those aspects together electronic backing that had elements of a live DJ set and connected the dots between his music, and the vintage disco and classic Brazilian dance music he's been drawing inspiration from. 'Lips' featuring a live guest appearance from Melodownz drew whoops of joy, as did ending with 'Radar,' which Noah flipped into a segment of Pharrell's 2003 hit 'Frontin.' MARTYN PEPPERELL
BADBADNOTGOOD
Fountain Stage, 6.35pm
Canadian four-piece, BADBADNOTGOOD, sometimes get confused with "GOODGOODNOTBAD" as I heard a few people say. As the sun was descending behind the Fountain Stage, they started their set with a slow build-up of their more experimental-jazz tracks and worked towards a groovier end. Early on, the crowd looked like they were struggling to dance to the irregular drumbeats and clashing notes, but the environment changed once they started playing 'Lavender'. The band misjudged their run-time as they initially finished their set four minutes early. People were starting to leave so BADBADNOTGOOD quickly gathered together to decide their final song. They resurrected their 2014 classic 'CS60', while drummer Alex Sowinski exercised his control over the crowd and got them more charged up for this song than any other they had played that day. JESS FU
Mac DeMarco
Princes Street Stage, 6.45pm
Jangly! Dreamy! Lackadaisical! Noodly guitars! Mac DeMarco! It's unsurprising that DeMarco has become a Laneway staple. My friend James loves the man to death. He was tempted to buy a Laneway ticket just to see Mac swagger around stage. I can see the appeal: shimmering guitars, charming vocals, a consummate crowd pleaser, the sound of summer romance. At the same time, he sounded a little too 'polite'. Not quite phoning it in, but getting close, even though the band played immaculately. Songs from 2013's 2 were still the best. The crowd began bopping with more vigour during 'Freaking Out The Neighbourhood'. The set really came alive during 'Still Together' when Connan Mockasin sashayed onto stage wearing a wide brimmed hat, nearly stealing the show with a ripping guitar solo. Listening to DeMarco cry Lion King singing "togetherrrrrrrrr" with Connan on stage was pretty special. SOONG PHOON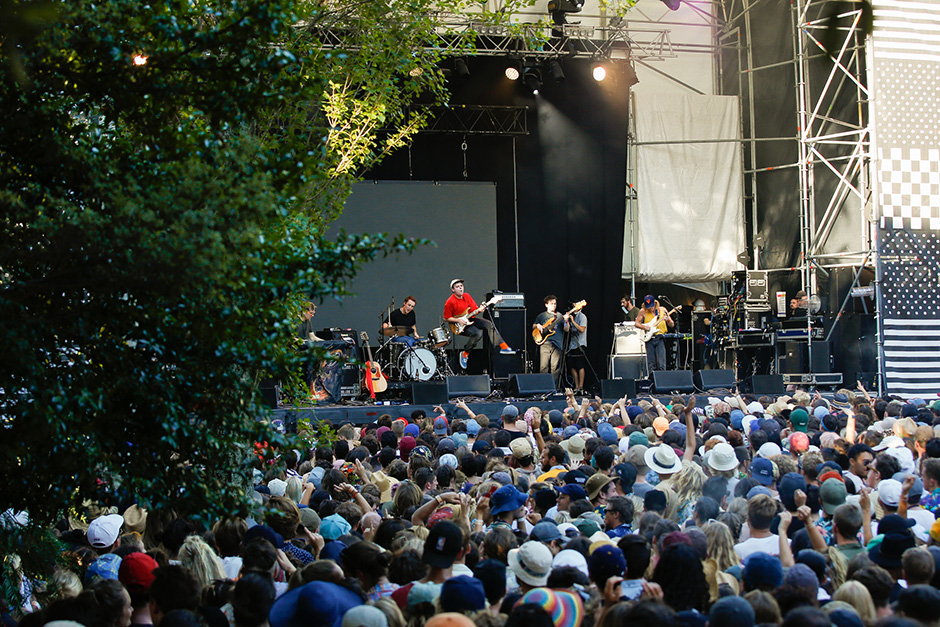 Photo Credit: Connor Crawford

Unitone Hifi
Thunderdome, 7.25pm
Auckland dub innovators Unitone Hifi were a personal blast from the past, tucked down the leafy sidestreet of the Thunderdome. Their 1995 album Wickedness Increased was cranked on regular rotation on my old flat's soundsystem many years back, so I was curious as to how the tunes would hold up. Respect is due, the group in many ways helped kick off Aotearoa's huge dub / reggae boom of the late 90s / early 00s, which for better or worse carries forward even today. The group jumped into their instantly recognisable hit 'Guiding Star' right away, with enough rib-rattling bass and skanking grooves to get bodies moving. Unitone Hifi manifested as a core trio on electronics, complimented by a full live band which cycled on and off stage, featuring a sunglasses-wearing horn section, live guitar, and two very charismatic MCs going wild on the mic. Unitone Hifi's devotion to deeply stoned grooves and pleasantly spaced-out beats went down a treat with the intergenerational crowd in attendance, the show provided maximum good vibes and a welcome shady respite from the intense heat of the day. CHRIS CUDBY
Anderson .Paak & The Free Nationals
Rotunda Stage, 7.30pm
Anderson .Paak & The Free Nationals was Anderson-packed. The smooth and sensual beats echoed out throughout the leafy knolls of the Rotunda stage and surrounding area, with festivities well and truly underway. The California-based crew were on point and upbeat, with the rarity of the drummer/lead singer combo going down a treat, inciting feet-shuffling to the nth degree.
At times it was a delicate balancing act of navigating the throngs of humans to find the sonic sweet spot and having enough room to boogie appreciatively, but the persistent were rewarded with the best of both worlds. A spot of moisture from the air cooled punters back from the borderline of overheating. They were definitely an idiosyncratic and outstanding ensemble. FLUFFY
Father John Misty
Princes Street Stage, 8.05pm
The sun just going down and a coolness beginning to fill the air when Josh Tillman, also known as Father John Misty, sauntered on to the Princes Street Stage later in the evening. Simply garbed in loafers, black jeans and a white short topped off with sunglasses, our father John looked like an off duty Jesus. Vocally smooth and mellow, the artist's deadpan delivery often made his politically and existentially focused (but tongue in cheek) lyrics even funnier. Starkly political visuals added to the often dystopic vibe of the set, including a family of skeletons in a living room wearing VR headsets. With mechanical yet groovy dance moves, Father J knows how to woo a crowd while critiquing our society. JEAN BELL

​Slowdive
Fountain Stage, 8.20pm
Although their early career may have famously suffered some unfortunate timing, Slowdive's slot at Laneway could be described as quite the opposite. Occuring as the dusk gave way to night, natural and stage light combined, forming a hazy glow; a fitting accompaniment to their surreal soundscapes. It was clear Slowdive's draw was strong for their first New Zealand appearance, a healthy crowd of various ages had formed expectantly in front of the stage. Soon the audience were visibly adrift in the music's gentle and mesmerizing sway.
The Oxford quintet mixed old and new material. From their eponymous 2017 release they played tracks like 'Star Roving' and 'Sugar For The Pill'. But stalwarts were not left wanting with the inclusion of classic 90s material such as 'Crazy For You' and 'When The Sun Hits'. Closing with an uplifting cover of Syd Barrett's 'Golden Hair', it was clear why Slowdive's legacy has prevailed, and deservedly so. NICH CUNNINGHAM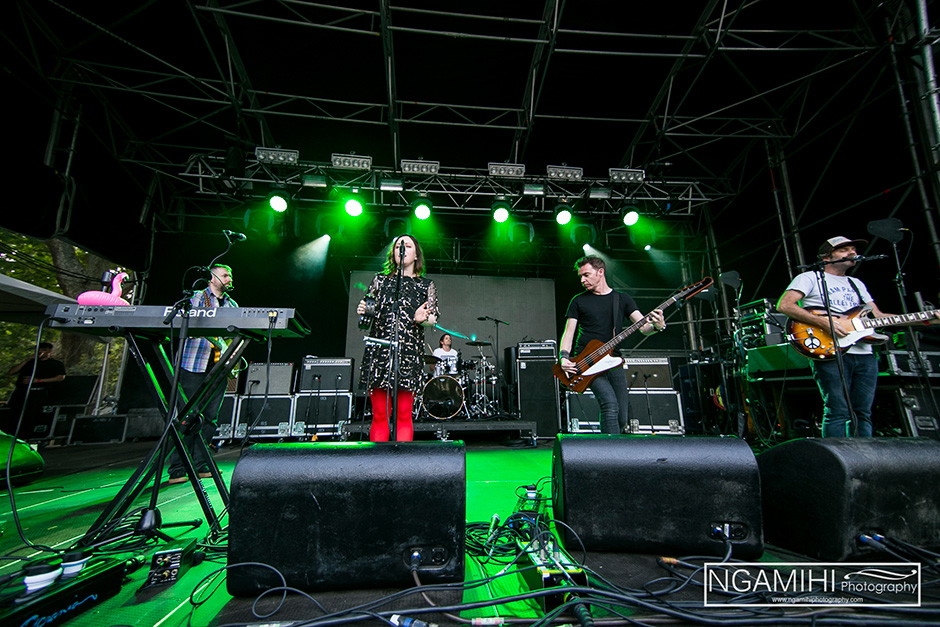 Photo Credit: Ngamihi Pawa

Tokimonsta
Thunderdome Stage - 8.40pm
California's Jennifer Lee (aka Tokimonsta) has had an eventful few years. From the highs of some of the world's biggest festival stages to the brain surgeries that left her unable to comprehend language, let alone the beat-making for which she is renowned. The pathway back to the decks has been a tough one, but the Brainfeeder label stalwart has lost nothing in her command of a festival crowd looking to dance.
Ostensibly touring in support of recent record, Lune Rouge, Lee sets her stall out quickly with an endearing and enjoyably set of hip-hop, dance and techno, knitted together by her own trademark breakbeats. The hyped crowd squished into the Thunderdome stage area are greatly receptive as well. With the sun down and a bit more energy to be had, the artist and crowd go "on a little journey together."
It's a journey that spans Missy Elliot, Kendrick Lamar and a whole lot in between, including cuts from the first Tokimonsta classic, Midnight Menu which is now 18 years old! Behind the decks, Lee is confident and grinning. She's having a great time and so is the crowd; a perfect mix for a Laneway night. PAUL LARSEN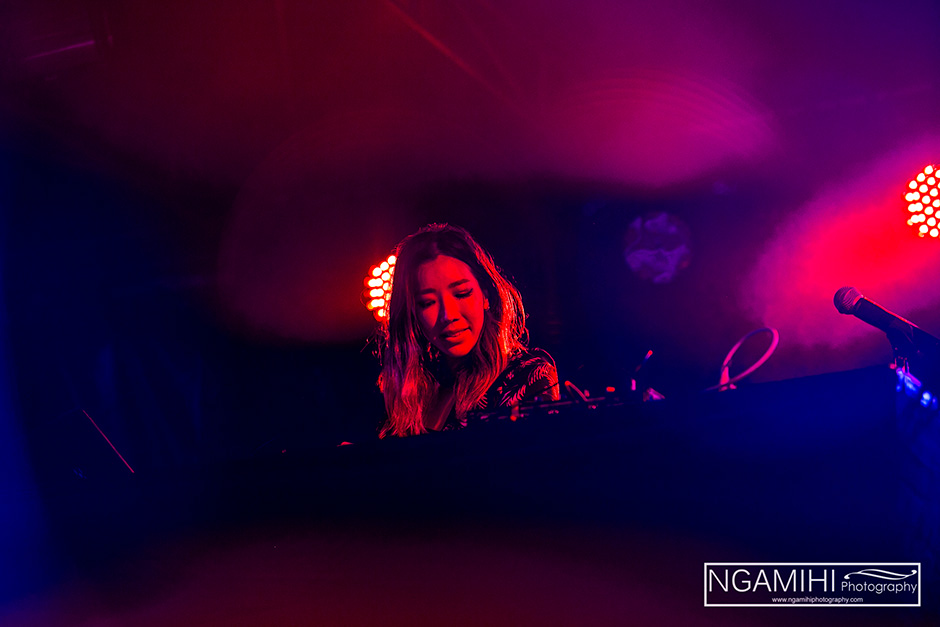 Photo Credit: Ngamihi Pawa

Bonobo
Rotunda Stage, 9.15pm
At this point in the evening the festival had split into two tribes, with rockers heading off to see The War On Drugs, and party animals crowding around the Rotunda Stage for a taste of UK electronica figurehead Bonobo, aka Simon Green. After a potentially-disastrous kebab incident my festival was back on track, both the well-rinsed crowd and myself were primed for whatever Bonobo would throw at us. We were treated to a beat-driven intersection of post rock rhythms, jazzy licks, cinematic orchestration and smooth soul. Green has expanded Bonobo into a live group, swapping out instruments and embodying something of a more-is-more approach, as entire horn sections and flute players would appear and disappear on stage with little warning. Sometimes this worked great, such as the group's rendition of hit tune 'No Reason'. At other times subtlety was thrown out the window in exchange for an all-over bombastic sound which approached the generic, but the amped-up festival-goers certainly weren't complaining. CHRIS CUDBY

The War on Drugs
Princes Street Stage, 9.30pm
Maybe the day had been too hot. Maybe their set was structured a little differently from what you would expect for a festival closer. Maybe The War On Drugs celebrated their Grammy win for 'Best Rock Album' a little too hard before coming on stage. Their set felt flat, even songs 'Red Eyes' and 'Under the Pressure' felt middle of the road, without momentum – sanitised somehow. In the setting, their country schwing came to the fore, and I couldn't help but think that "Episcopalian Americana" could be the name for the popular genre they are forging ahead with. In five years heaps of dads will be going to see the band play at Mt Smart. SOONG PHOON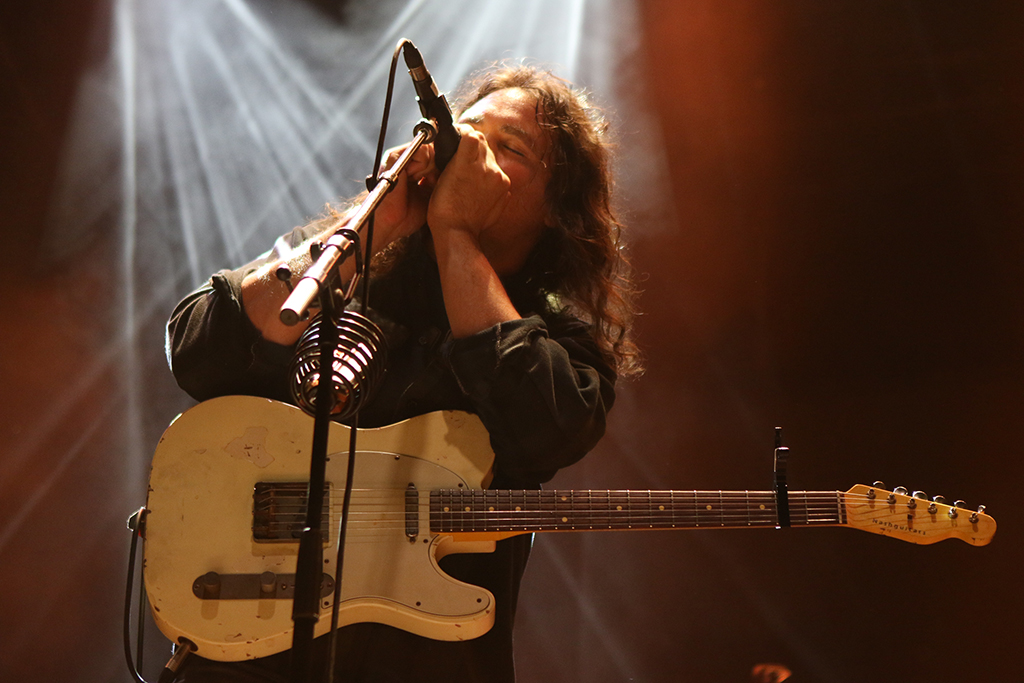 Photo Credit: Connor Crawford
Links
auckland.lanewayfestival.com/
Subscribe/Follow Us
Don't miss a thing! Follow us on your favourite platform
Support UTR!
You can show your support to keep UnderTheRadar running by making a contribution. From $1, any amount can make a huge difference and keep us bringing you the best, comprehensive local content.
Support UTR!