Auckland City Limits 2018 Live Review + Photos
Monday 5th March, 2018 3:30PM
The second incarnation of Auckland City Limits picked up where its predecessor left off, providing a well-rounded day out for hardened festival dwellers and casual punters alike. Western Springs Stadium and Park served as a beautiful backdrop for the event, with a relaxed and harmonious crowd arguably encouraged by the low percentage alcohol on offer in the central locations (to the frustration of some). Observant attendees subsidised their revelry by returning the recyclable cups to the refund station, reducing the event's environment impact. Audience members are still buzzing from the show that unfolded, our crack team of keen reviewers were there to provide first-hand accounts of the performances, alongside ace photographers Ngamihi Pawa and Connor Crawford who captured the festival action. Read on below to relive the memories or alleviate your fear of missing out, and head along HERE to check out the full live photo gallery.

Jess B
Tamaki stage, 12pm
Performing an opening festival slot must be hard work due to a lack of audience, but JessB seemed genuinely stoked to be there. Her midday set drew an eclectic and enthusiastic crowd that was mainly made up of young women - and it's no surprise why. Along with her captivating hype girl, Half Queen, the sartorially inclined-rapper is the modern face of New Zealand hip hop. Her slick flows are underpinned by a powerful and positive message for women of colour and queer identities. So it seemed fitting that P-Money almost faded into the background and kept the beats rolling on as the two women held the stage down, working through tracks like 'Pushing This Space', a recent cut that JessB told the audience she wrote inspired by FAFSWAG (South Auckland LGBT Pacific Arts collective). Special guest Silva MC also brought some ragga styles to the set, and back-up dancers Tia and Cia brought a dynamic to the stage that had me hyped. As JessB promised at the beginning of her set, it was the perfect warm up for the rest of the day. DANIELLE STREET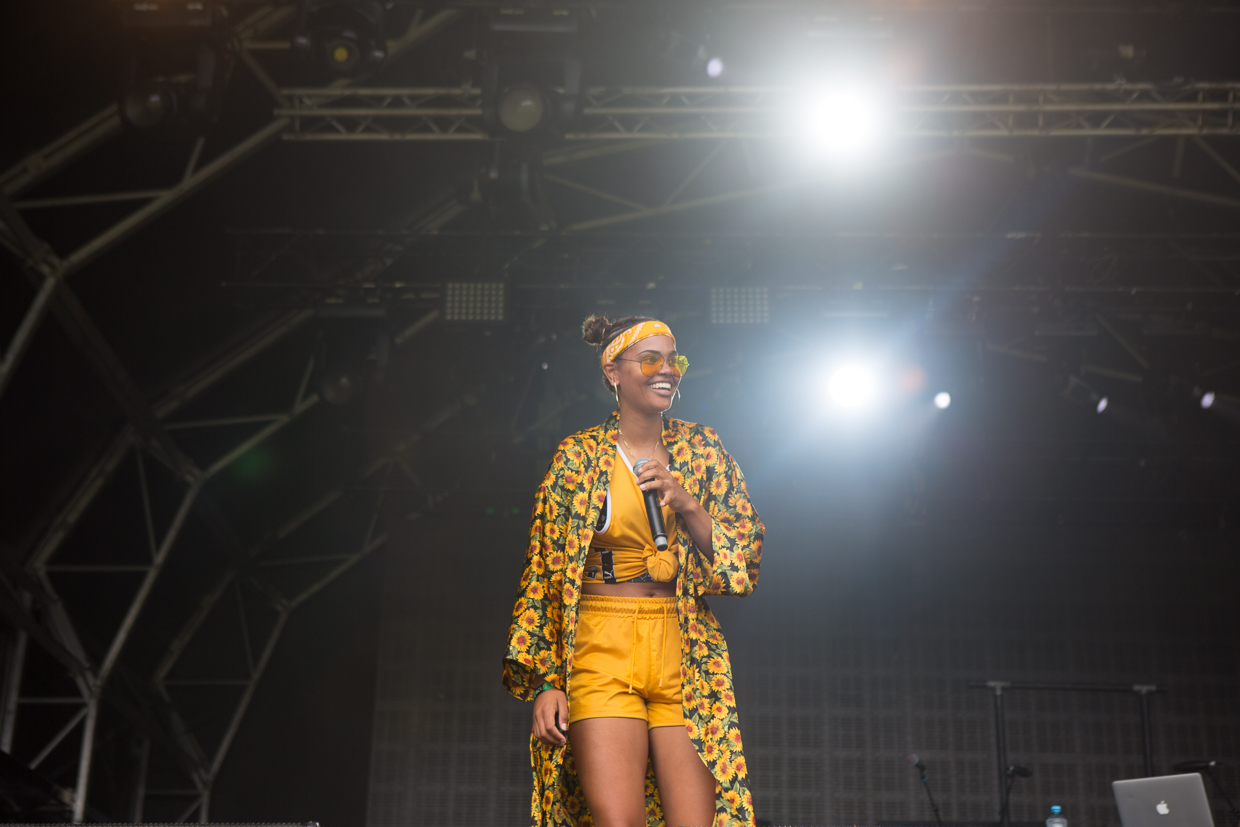 Photo credit: Connor Crawford

The Beths
Golden Dawn stage, 12pm
While people were dawdling through the festival gates, Auckland four-piece The Beths kicked off their set with an unreleased track titled 'You Wouldn't Like Me'. Singer Elizabeth Stokes had an air of quiet confidence on stage and would interject some awkward banter that was also very endearing. They treated the audience with a cover of New Zealand classic 'Verona' by Elemeno P and up until then I didn't realise how heartwarming that pop-rock love song could be. The Beths are a bright beam of light that is so powerful that even the clouds parted and the sun emerged for their tune 'Lying in the Sun'. The band all looked very chuffed and surprised when the enthusiastic crowd sung the words to one of their more popular songs 'Whatever'. Over the past few years they have become Auckland's very own indie-rock sweethearts as they are adored and loved by many. JESS FU


Alien Weaponry
Spark 2 stage, 12pm
The Spark 2 stage kicked off at noon, I'd brought my seven-year nephew along for the ride. Being a fan of Japanese metal band Baby Metal, I figured he'd appreciate the local bilingual band that spoke Te Reo Māori. Armed to the teeth with loaded guitar racks, Alien Weaponry were ready to prime the Marshall stacks. The loosely gathered crowd were summoned to the front of the stage. Opening with the song 'PC Bro', it was clear the band carried a strong message. No matter how unenergetic the crowd seemed, the boys riffed it out without skipping a palm mute.
At one point the crowd were split into two sides to form a 'wall of death'. My nephew looked confused though equally enthralled. I picked him up over my shoulders and ran towards the opposition. The crowd soon petered out but my job was done. The young tamariki was able to experience his first mosh pit. Debut single 'Urutaa' was a highlight. The song refers to The Boyd Massacre, a misunderstanding that led to deaths of many European and Maori in 1809. The band closed with 'Rū Ana Te Whenua', a song dedicated to the brother's great, great, great, grandfather who fought and died defending the hill at Pukehinahina. I was deeply impressed with Alien Weaponry's integrity, knowledge of history and pride in their culture. They also have the chops to convey it. ELIJAH PENNINGTON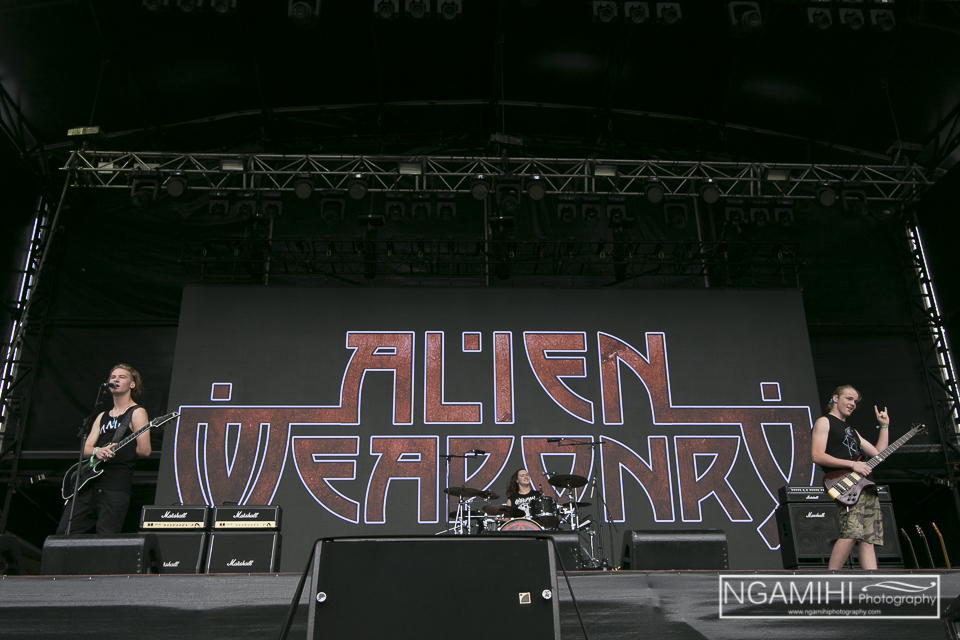 Photo credit: Ngamihi Pawa

Head Like A Hole
Spark 1 stage, 12.45pm
The crowd was sparse, four fans waiting for Head Like A Hole. As it turned out I was actually waiting at the wrong stage. I arrive at the correct stage with two minutes to spare to see one of the guitarists vaping. Booga Beazley swaggered across the stage. "This song is about fucking!" said Booga and the band started playing 'Comfortably Shagged'. Beazley tickled his leather-clad crotch and wagged his tongue. The blonde person in front of me with dreadlocks and a hawaiian shirt bobbed his head and threw the goats followed by a scull of Apple Mizone. 'Cornbag' was next and was somewhat satisfying and nostalgic. The heat had me sweating and lightheaded, I walked to find shade. It was then I saw a small child holding a sandwich as if his heart and soul depended on it. It was at that moment I wished I could feel the same way about literally anything. ROY IRWIN


SWIDT
Spark 2 stage, 1.30pm
Following two hard rock acts might not have been the ideal billing for Onehunga hip hop collective SWIDT, but they really didn't seem to mind. The Kiwis jumped straight into a flurry of favourites from breakout releases of their album Stoneyhunga and the Stonehunga Bootleg EP.
Hits 'Alfred & Church' and '312' had the crowd grooving along early but it wasn't really until they launched into a jaunty 'Little Did She Know' that the mid-afternoon set turned into something a bit special. Sans shoes and swapping sips from a bottle of 'definitely-not-water', the group punched on with banter, tunes and rhymes enough to more than earn their spot on the main stage of NZ hip-hop.
The set culminated in a glorious circle pit intro to the crowd favourite, 'Player of the Day' and thus ended one of the more enjoyable sets of the day. SWIDT are on top of New Zealand's rap game right now, and this set proved that. PAUL LARSEN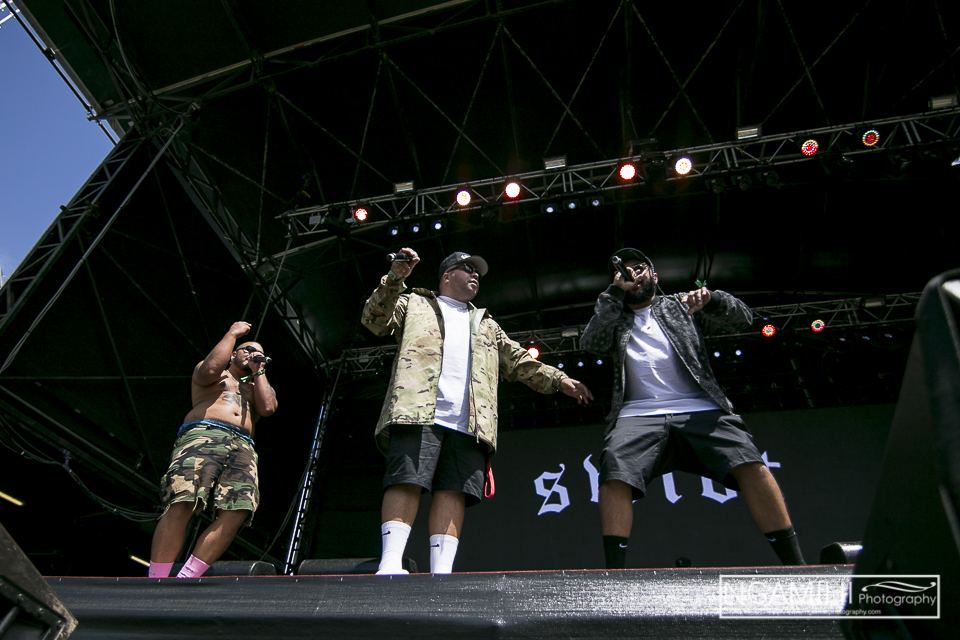 Photo credit: Ngamihi Pawa

Scott Mannion
Golden Dawn stage, 1.30pm
The sun was scorching hot and the smell of weed wafted through the air when Scott Mannion and his band took to the Golden Dawn Stage to a fair sized crowd, with most punters sensibly sticking to the shade of the trees. Mannion and his band delicately plucked sounds from a variety of genres, mainly folk and shoegaze. This versatility allowed them to cover a lot of ground, from a floaty guitar vibe to more piano-driven folk tunes. Deliciously smooth, but at times ominous, bass lines teamed with sonic-sounding synths to drive songs forward, with a dash of xylophone adding some spunk to others. The guitars kicked into gear on Mannion's single 'Your Kinda Love', with the welcome addition of the smooth notes of a trumpet. Mannion himself was pleasantly shy, looking quietly blissful at times. The groovy music was enough to get some punters to their feet to dance under the shade and the group ended their set to a content crowd. JEAN BELL


Disasteradio
Golden Dawn stage, 2.40pm
I was waiting for Disasteradio as I sat in the shade on the feather-covered grass and felt worried I wouldn't have enough energy to get through another hour of the festival. I was already exhausted and my feet were sore. But once I heard the invigorating synthline of 'You Win', I got a renewal of life and ran to the stage. Disasteradio aka Luke Rowell was jumping with his knees to his chest, doing high kicks, twirls and side steps like an 80's aerobics video. Rowell is a theatrical and comedic performer and I'm amazed he's not also a stand-up comedian after he poked fun at his set time, "It's 2:40! You weed smokers should know what time that is!" Some of the audience seemed confused about how to react to this flamboyant performer but they soon warmed up and started dancing by the third track 'Awesome Feeling'. It's Rowell's over-the-top dance moves that make people feel comfortable to dance as weird or as crazy as they want. After Disasteradio finished up, I heard someone say, "Wow my face hurts from smiling so much." JESS FU


Car Seat Headrest
Spark 2 stage, 3pm
I first spotted Car Seat Headrest side of the Spark 2 stage steadily nodding away to the closing songs of SWIDT's performance with a small but energetic crowd. It wasn't long before the crowd filled up, with punters rolling in to claim a good spot for the Seattle rock band. Their set began with five out of the six performers on stage (three more than their previous performance in Auckland at Laneway Festival 2016) playing an ear-piercing intro which moved into the opening chords of 'Beach Life In Depth' as frontman Will Toledo took to the stage. The crowd was skeptical of the thirteen minute ripper, but as the song neared an end and riffs from 'Fill In the Blank' started to slip through, the audience began to loosen up and sing along. It was all up from there, with the band alternating between favourites from their last two albums and Toledo embracing his only instrument of the day, the maracas. The track 'Destroyed By Hippie Powers' was a winner, having the entire crowd sing along to every lyric and the set peaked on closing track 'Nervous Young Inhumans'. HUNTER KEANE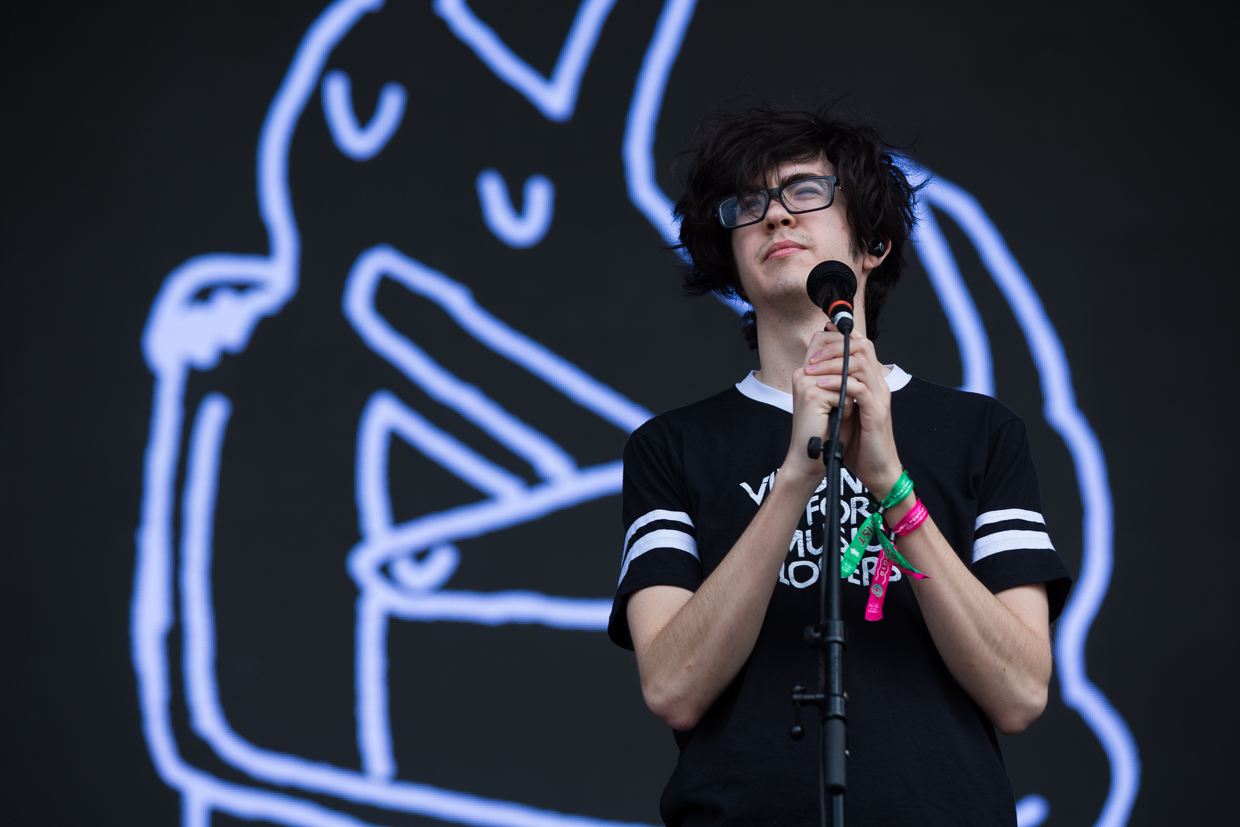 Photo credit: Connor Crawford
Aaradhna
Tamaki stage, 3pm
If you grew up somewhere like Naenae (like I did) then Aaradhna's music has an innate familiarity. Her set kicked off with a innovative medley of Bill Wither's gorgeous tune 'Ain't No Sunshine' mixed with her own track 'Welcome To The Jungle', and as the idiom goes, she started as she meant to go on - performing her own songs old and new, with the odd classic cover sprinkled in. With this blend of soul, rock 'n' roll and reggae, there is a feeling that you could be listening to this set in a local cossie club - and I mean that in the best way. Her band was tight and the rhythm section delivered grooves that resonated through my chest, while The Dude (yes, with a capital D) behind the Roland Jupiter synthesiser delivered keys reminiscent of Stevie Wonder's work. Meanwhile the badass back-up singers, who looked like they were lifted from a Once Were Warriors scene, provided the perfect accompaniment to Aaradhna's vocals which - of course - were delivered with soulful beauty. Also worth a special mention is the incredible gold and jewel-encrusted goblet that Rads took an occasional drink from, that thing alone held my attention for several minutes. DANIELLE STREET
Thundercat
Aroha stage, 3.45pm
Thundercat and his two-piece band eased into his set with 'Rabbot Ho' before he sincerely asked, "Are we still in New Zealand?" Lucky for him, he was still in New Zealand - he had played two nights in Wellington beforehand so I'm sure that one hour plane ride could have caused his bearings to be out of whack. Thundercat's live performance strayed from the sound of his original recordings, since each song was was augmented with moments of improvisation. His fingers sprinted along the frets of his six-string bass and his eyes rolled back into his head as if he was possessed by the freedom of jazz. Some audiences did appear to zone out during the long improv sessions until they heard a familiar hook that they could dance to. It is undeniable that Thundercat is a highly-skilled jazz bassist, but his performance felt detached and aloof to your average festival goer. JESS FU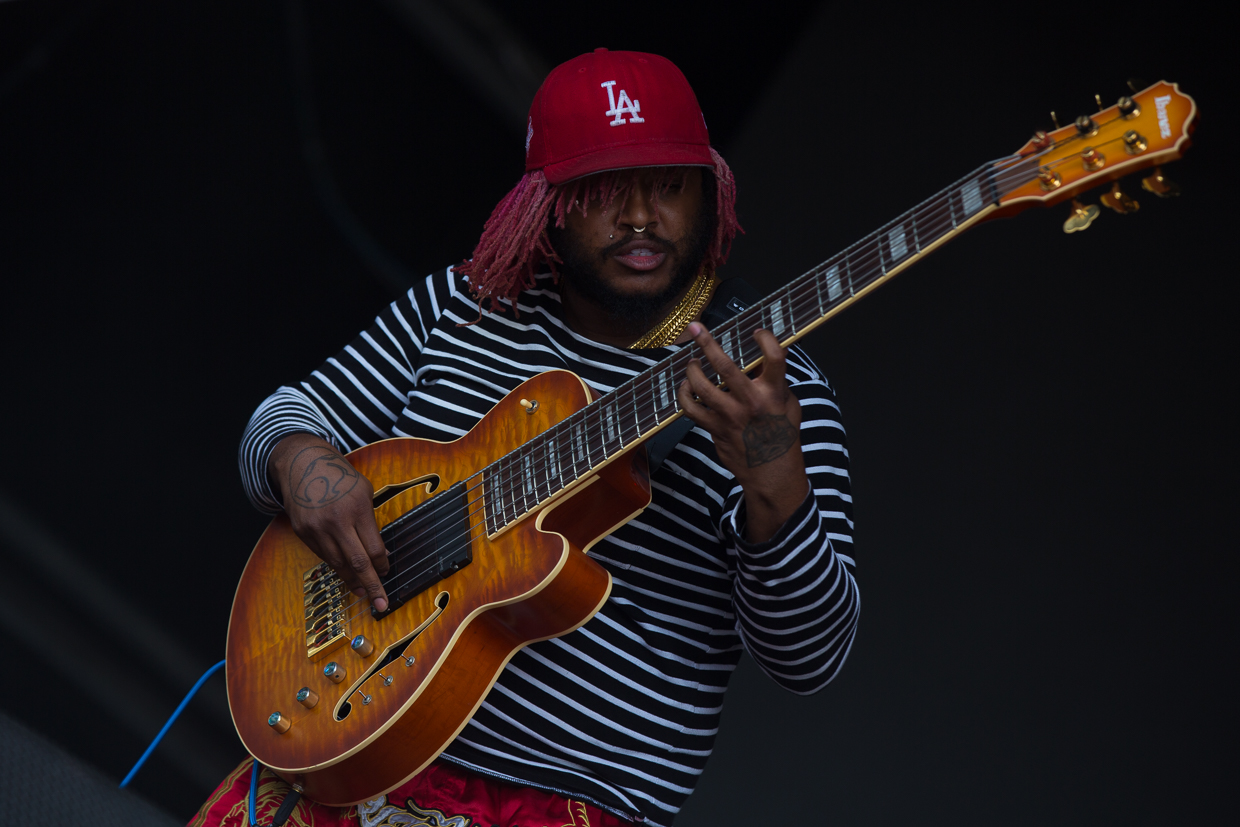 Photo credit: Connor Crawford

The Libertines
Spark 2 stage, 4.30pm
I have a brief fanboy moment watching everybody's favorite fuck up Pete Doherty walk out onto the stage. The Libertines had a lot of fun and they played their songs pretty well. The on stage bond between Doherty and Carl Barats was kind of heart warming but not obvious. They addressed the crowd typically by shouting "New Zealand!" which led into their only song anyone really knew or cared about 'Can't Stand Me Now'. I found myself feeling all of the alcohol I ingested throughout the day and I started laughing uncontrollably. I was alone with a crowd of dads and teenagers who were probably on drugs. I thought about how Pete Doherty was friends with Amy Winehouse and how he dated Kate Moss, as well as how bored I was watching bloated dudes play rock star. I couldn't wait to see Grace Jones, eat a kebab and go home but I think some of my friends enjoyed themselves. ROY IRWIN

The D4
Tamaki stage, 6pm
Back from the crypt to revive their prehistoric sounds one more time, the D4 took flight with kind of reckless abandon that has become the hallmark of their live shows. While the band is arguably ideally suited to darker and grubbier dive bars, they still successfully projected their bombast into the sunny surroundings of the Tamaki stage with the energy and guitar theatrics their music demands.
While nothing literally caught fire today, the D4's recent sojourn around the country had clearly left them well-oiled for Auckland City Limits. Backed by a giant "Rock N Roll Motherfucker" banner, the band was greeted by an enthusiastic audience waiting expectantly at the front of the stage. And they were not left disappointed, as the band fired through favorites like 'Come On', 'Exit To The City', 'Feel it Like It', 'Party', 'Get Loose', 'Pirate Love' and perhaps the high water mark of their songwriting, the stupendous 'Heartbreaker'. And then, as abruptly as it began the D4 were done. But while their set was over, they had proven unequivocally that the fire had not gone out. NICH CUNNINGHAM
Magic Factory
Golden Dawn Stage, 6pm
"We're gonna play some rowdy songs if you wanna come party with us" was all the encouragement that punters at the idyllic and comparatively booze-equipped Golden Dawn stage needed to partake in the toe-tapping, old-timey throwback riot invoked by the nine-piece collective that is Magic Factory. The group excelled in the open air setting, lifting the energy of even the most careless of sunstruck revellers. Frontman Rory Treadaway's deadpan beckoning to the crowd to shuffle forward was well amusing, while the intersong banter about smoking DMT and the supplying of a plethora of percussion instruments to the most dedicated punters ticked all the stage-antics boxes. Organist Vincent Lum's playing was a definite lynchpin for the band's sound, as they happily straddled the coveted spot on the local band sonic continuum - landing handily in the right place between endearingly familiar and off-puttingly overexposed. FLUFFY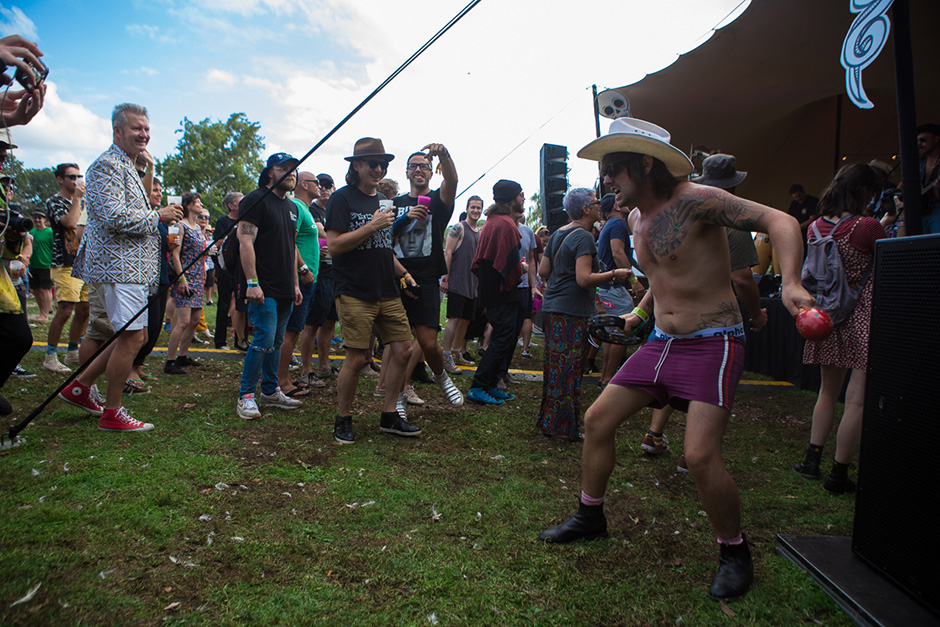 Photo credit: Connor Crawford


The Avalanches
Aroha Stage, 6.45pm
There are few phrases I can muster to describe The Avalanches playing live that don't end in "A F". eg. tight A F. The chaotic beats were held together like super glue by the rock solid live drumming of Paris Jefferee. MCs Eliza Wolfgramm and Naeem Juwan (aka American rapper Spank Rock) brought the party to the people, while bubbles and a palpable and persistent herbal aroma filled the air. Recent banger 'Frankie Sinatra' had the crowd bopping away, with stark lights flashing in time with the thumping electro-swing beat.
The crew were clearly heavily informed by the Run DMC school of hip hop, with tinges of disco topping off the fun. The set, and importantly the crowd, displayed no trace of the draining tough guy pretension and toxic hypermasculinity that frustratingly shrouds much of the modern incarnation of hip hop. Seeing 'Frontier Psychiatrist' played live, with an added theremin solo was a life-defining moment and hearing an entire stadium sing the sampled brassline back to the visibly stoked group gave me thick goosebumps. The closing chords of their classic hit 'Since I Left You' seemed to make all the worries in the world melt away as I realised The Avalanches are the first international act I've seen for years that I loved more after seeing live, and I loved them a lot beforehand. FLUFFY


Cool Tan / Heavy
Golden Dawn Stage, 6.45pm
Billed as Heavy but performing in one of their first outings as Cool Tan, local rappers Meer and Dbldbl put on a hip hop show to remember in the late sun of the Golden Dawn stage. Resplendent in blush pink, the duo (backed with a DJ on in a support) confidently stalked the stage and ripped through an enjoyable set of the patented lo-fi hip-hop they've become renowned for on the Auckland scene.
With a new name appears to have come a new confidence as well. Cool Tan were on fine form and sounded as good as ever, managing to translate the fun of a late night Heavy show into the mid-afternoon dance-in-the-park, with multiple forays into the crowd to have a bit of a dance. The set winded down with new buoyant new single 'Chocolate Dip', a blast of a tune that saw the crowd head off in the direction of Grace Jones with smiles on faces. PAUL LARSEN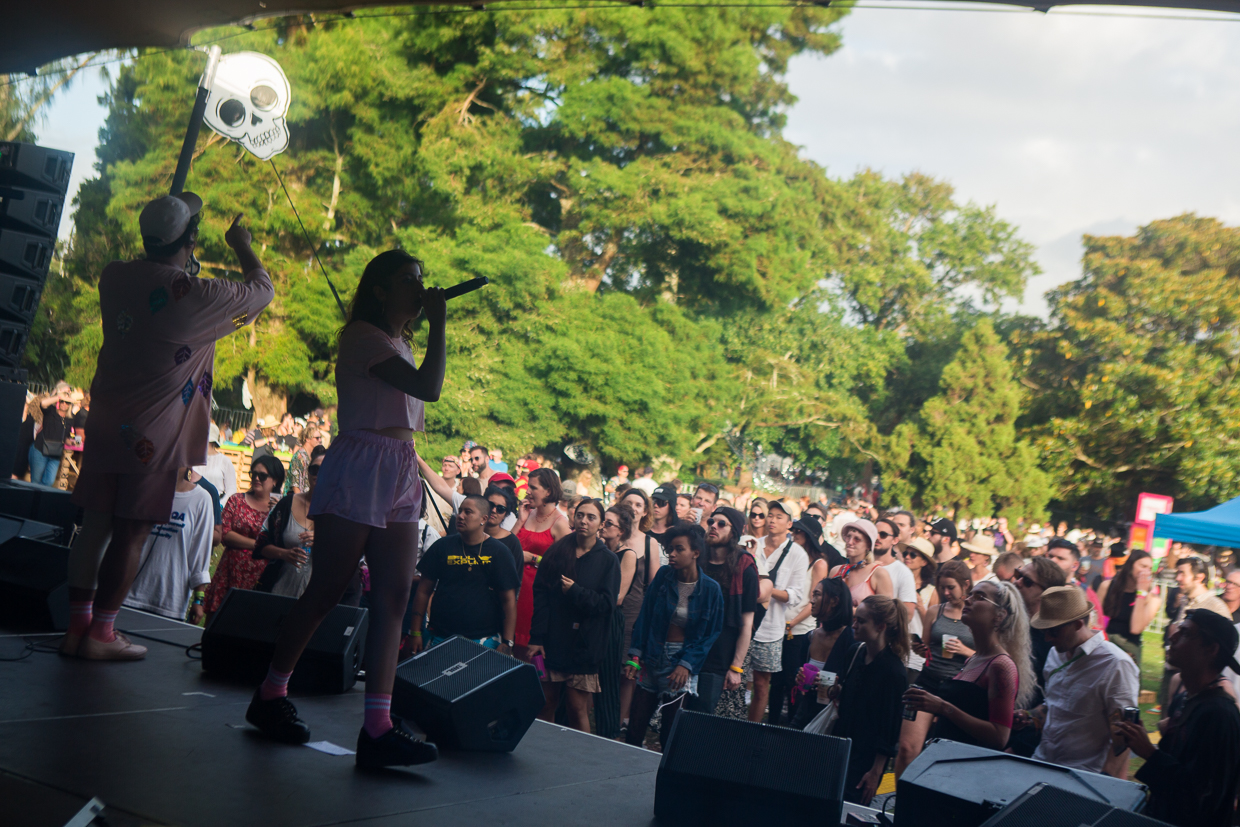 Photo credit: Connor Crawford

Future
Spark 1 Stage, 7.15pm
Future was a welcome addition to the Auckland City Limits lineup, having previously canceled his 2017 show. With the his joint album Super Slimey with Young Thug (aka Jeffery Lamar Williams) still on repeat I was just as excited to see the enigmatic Jeffery in the flesh. However due to visa complications in Australia, that New Zealand appearance was also cancelled.
Coming up with the Atlanta's infamous Dungeon Family, Future's sound is a unique mix that is equally introspective as it is turnt up. As the sun lowered, the crowd grew at the Spark 1 stage. My nephew had somehow convinced himself he was about to see DJ Khaled. I assured him that Future was just as famous. I refrained from telling him it would be lit and told him not to listen to the swear words.
A Dirty Sprite backdrop and a haze of purple set the stage. Walking on looking very regal the rapper donned a red Paulie Gualtieri-esque tracksuit. His jewellery glistened under the stage lights. Calling out for day one fans, Future connected to his fan base immediately. Carving through his hits one after another the crowd did not let up. 'Move That Dope', 'Karate Chop' and 'F**k Up Some Commas' were definite crowd pleasers. Production sounds from Southside, Mike Will Made It and Metro Boomin' rattled the system as we ramped into the night. The energy level of the entire show was continuous, partly thanks to the double-time dancers who whipped and Nae-Naed throughout. ELIJAH PENNINGTON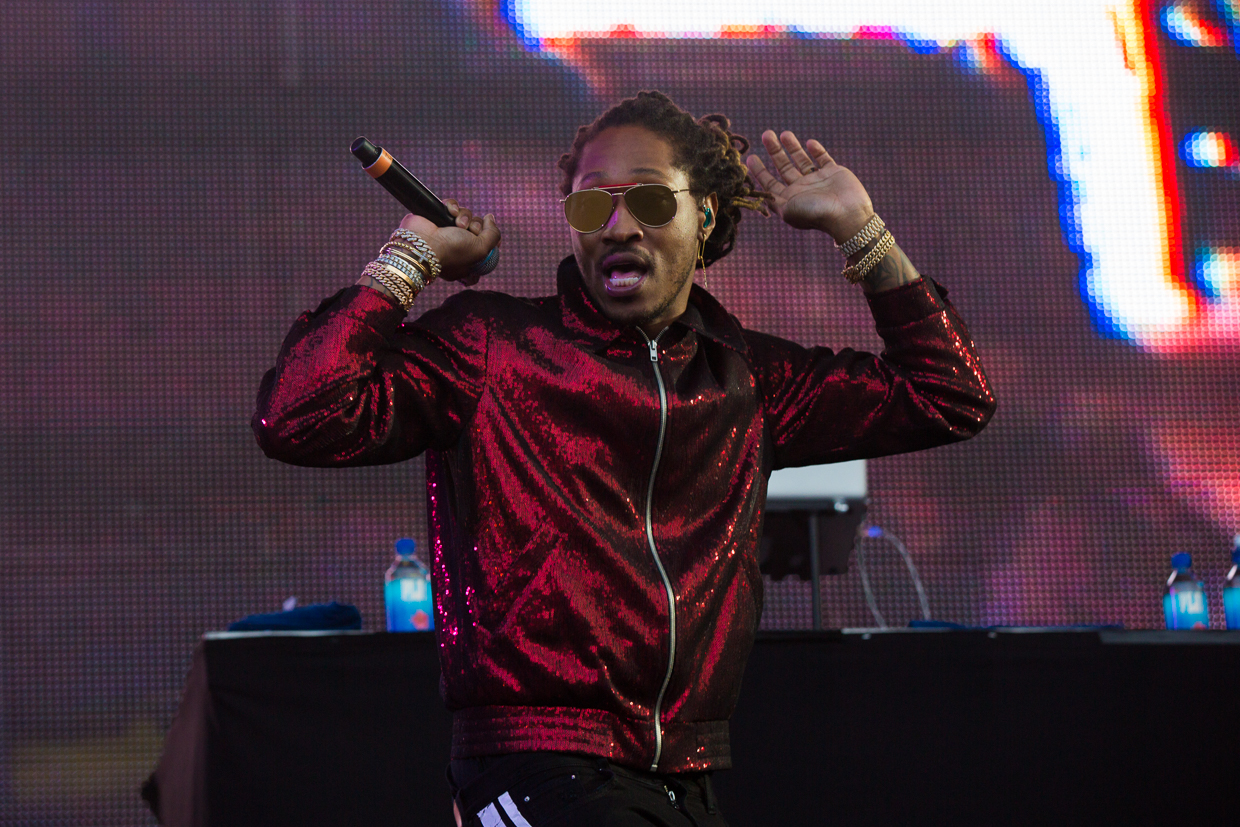 Photo credit: Connor Crawford

Grace Jones
Tamaki Stage, 7.45pm
After decades of waiting for Grace Jones to return to New Zealand, the legendary artist made us wait twenty minutes past her scheduled starting time. I wasn't complaining, I was stuck jostling with old people who had their elbows out, staunchly holding ground in the front rows to see their idol. When Grace finally appeared, she was in Keith Haring-style body paint complete with corset, g-string, cape and she had a huge gold mask upon her head which had black feathers pointing up to the sky. She launched into her classic Iggy Pop cover 'Nightclubbing', and at 69 years old Grace displays the athletic prowess of someone less than half her age. "I see some people following me around. I love it," the superhuman performer said between songs in her thick Jamaican accent. "It's been a long time. A LONG TIME," Jones added, referring to the last time she was on our shores.

She spent the duration of her set flexing and stretching, stalking the stage in a way that simultaneously struck fear and adoration into the audience's collective heart. There were costume changes, one for each song, because it's Grace Jones and "extra" should be her middle name. Perhaps the most notable was during 'My Jamaican Guy', when she donned a large strap-on dildo that was amusingly understated what with everything else going on. The set seemed to fly by, and the only moment when this well-oiled stage veteran missed a beat was when the male pole dancer she got on for closing track 'Pull Up To The Bumper' captured her attention a little too long with his own body-paint and g-string ensemble. At this point she was wearing my favourite costume - a kind of warrior headdress with long white wig that she whipped around repeatedly. Near the end of the song she jumped onto the shoulders of the world's luckiest security guard, and rode him around while high-fiving the front row and singing "pull up to the bumper baby" over and over until 9 o'clock ON THE DOT when the music stopped dead and everything went dark. DANIELLE STREET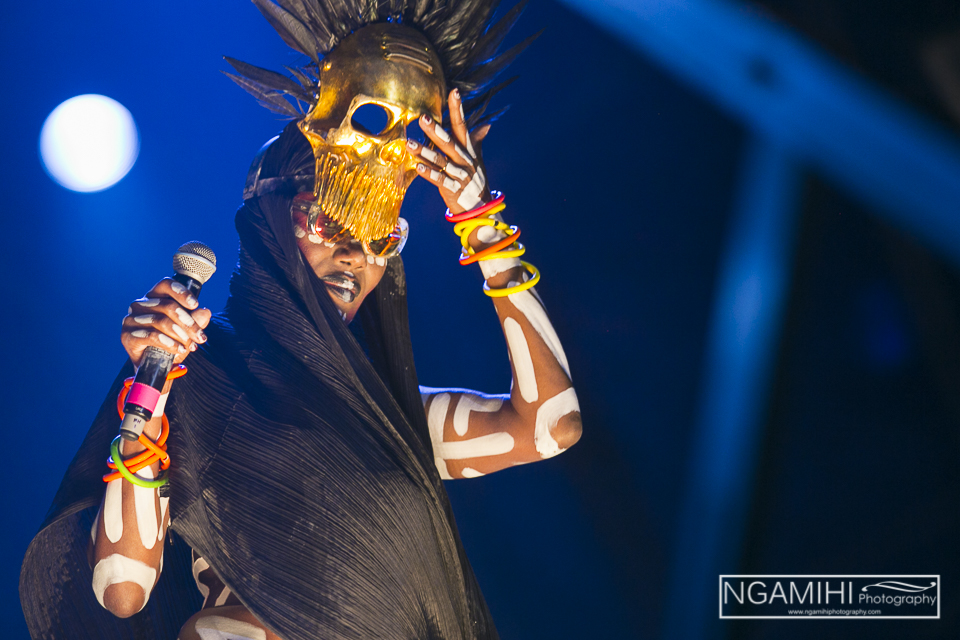 Photo credit: Ngamihi Pawa

Justice
Spark 2 Stage, 8.15pm
French electronic music duo Justice are a force to be reckoned with. Immediately recognizable they have a sound of their own. Along with fellow countrymen Daft Punk, Mr Oizo and DJ Snake they have a real knack for dance music with feeling. If you have seen their documentary Across The Universe you'll also know that they can rage. Nestled amongst a pile of illuminated Marshall amps, the pair turned the party out with their signature brand of dirty distorted disco. Straight out the gate we were graced with the funk-laden 'Safe and Sound' from their 2016 album Woman. Side-chained basslines squelched from Moog synthesizers amidst teal lights that dazzled the stage. Arpeggiated melodies and four-to-the-floor beats echoed throughout the Speedway.
The big tunes of the night were 'D.A.N.C.E', 'Stress', 'We Are Your Friends' and my personal favourite 'Genesis'. With disco and house surging through my legs, my curiosity got the better of me and I wandered off to catch the last song from Grace Jones before heading back to hear the end of their set. With what felt like some kind of 80's techno-church I believe many a new follower was converted that night. Sacrebleu. ELIJAH PENNINGTON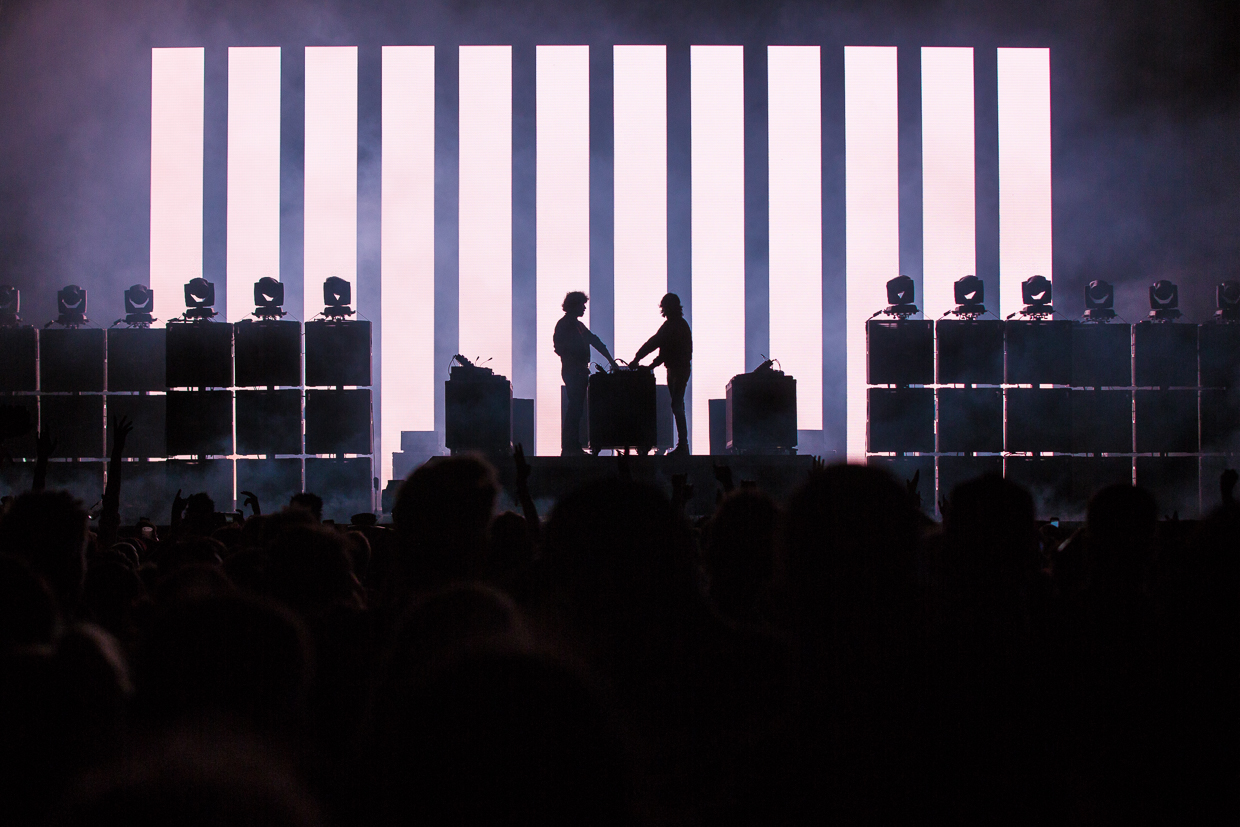 Photo credit: Connor Crawford

Beck
Spark 1 Stage, 9.40pm
It's been more than twenty years since Los Angeles native and musical icon, Beck has played in New Zealand, so it was an enthusiastic crowd that built in anticipation of the headliner's closing set on the Spark1 main stage. Beck's tours, as with his records, tend to alternate between the introspective ('Morning Phase' for example) and the more joyous, fulfilled sounds of latest release, 'Colours'. This night was clearly the latter as the set list was crammed full of dancefloor favourites from the outset. 'Devils Haircut' and 'Black Tambourine' set the scene early before new track 'Up all Night' continued the party vibe.
While the sound bleed from the 'Phoenix' set over the hill was a little disconcerting, Beck made the most of it by joining in, "Let's have a singalong!" A jaunty cover of Prince's 'Raspberry Beret' got a bit of a singalong going as well. Musically, the set was lively and crisp with ample opportunities for the crowd to join in. A (very) extended version of the classic, 'Where It's At', featuring a nice little jam introduction of each artist, closed out an enjoyable set and sent the crowd into the night for another year. PAUL LARSEN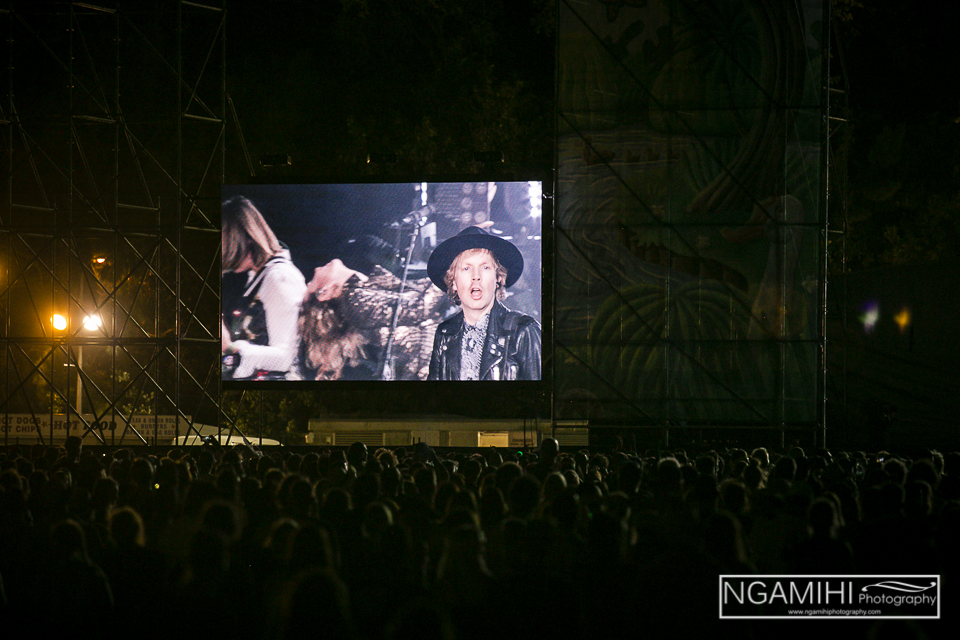 Photo credit: Ngamihi Pawa

Phoenix
Tamaki Stage, 10pm
The moon was peeking through grey clouds when French pop-rock group Phoenix sauntered on stage uniformed in skinny jeans and lined up on stage front. As the low blared synth of 'J-Boy' began, vivid colours flashed from the LED screen in the background matching the euphoric music. The endorphin-inducing display continued, ranging from fluorescent rotating diamonds to an idyllic waterfall one might hope to find in the depths of Hawaii. Lead singer Thomas Mars announced that it was the band's first New Zealand performance. "We don't have time to chat because we have six albums to play," Mars regretfully told the audience in delectably French-accented English. While the group might seem like a group of pretty boys making only pretty music, 'Armistice' was like a slow-burning volcanic eruption, mixing some rock grit into their gorgeously candied sound. Towards the end, Mars stole down the stairs and climbed over the railing to crowd surf. Belly down and body outstretched, he swam out some fifteen metres before returning to shore to farewell an ecstatic audience. JEAN BELL
Links
aucklandcitylimits.com/
facebook.com/ngamihiphotography/
web.facebook.com/CrawfordxPhotography/
Subscribe/Follow Us
Don't miss a thing! Follow us on your favourite platform
Support UTR!
You can show your support to keep UnderTheRadar running by making a contribution. From $1, any amount can make a huge difference and keep us bringing you the best, comprehensive local content.
Support UTR!